Bethanie McToody
~*Lil_Irish*~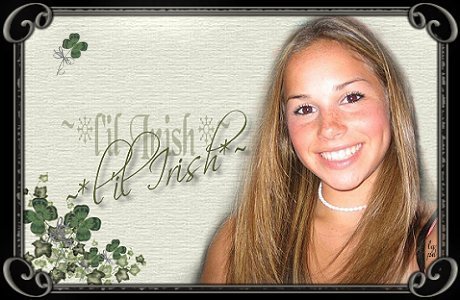 A Little Bit Of Hope
In an age of nothing.. at time when we stand at the brink of our own destruction. Strengthen your belief in yourself.. in the future of humanity.. in the things of this world which cannot easily be percieved.. awaken that which lies dormant now within your soul. Re-ignite the flame of your consciousness.. and measure the strength of your conviction. Reveal the lie.. renounce your hatred. Seek.. find and embrace the truths you are fortunate enough to discover. Cherish them.. use them to anchor you in the sea of chaos that is the world we live in. When twilight draws near.. when you are pushed to the very limits of your soul.. when it seems that all you have left are the dead remnants of the fabric of your life... Believe.
A Little Bit About Me
Hi, my name is Beth. Im 20 and live in Shannon South Ireland. Im single but my sister says im 'Married to College' rofl. That may be true. Ever since i was 8 years old ive had a passionate love for the Ocean and ocean life in general. As soon as i was old enough.. i set my mind to becoming a Marine Biologist. Ive made the first steps in that direction by getting my Associates of Science degree from University of Limerick. Now i just need to decide where to go from here :)
I am Pagan and believe in peace love and harmony with every living thing on this planet. I think im an easy-going person and have zero tolerance for drama of any kind. I am legally deaf and hear with the aide of Cochlear Implants so that limits me from using voice chat programmes, I love to play online games and can be found on different game sites. See below for my usernames and sites i go to alot.
My Online Locations
Site name: Pogo (www.pogo.com) Username there: Leprechaunette
Site name: There (www.there.com) Username there: Lil_Irish
Site name: Eve online (www.eve-online.com) User name there: Beth Solurex
MSN Messenger: bethmctoody@online.ie
Xfire: Rhaaven